What is AskJelly you ask? And why should your nonprofit care?
Our digital marketing strategist, Jenna, was recently on the beta version of this new search engine. It was developed by the founder of Medium and Twitter, which leads us to believe it could be hugely successful. With her review, I got to thinking, how could AskJelly.com be useful for nonprofits?
How AskJelly works:
The platform is set up so any user can post a question and an informed person will then post an answer in return – similar to Quora. How it differs from Quora is it combines attributes of Google; it performs as a search engine, using an algorithm to find the most suitable answer for you.
Keep in mind, you can sign up as an individual user, but not as an organization. Also keep in mind, it's not to get your nonprofit on another social media network of sorts, but rather is to be used as a tool to gather information.
On the beta version, Jenna actually got an answer from the founder himself. This may help clarify what AskJelly is, but also show how effectively it works: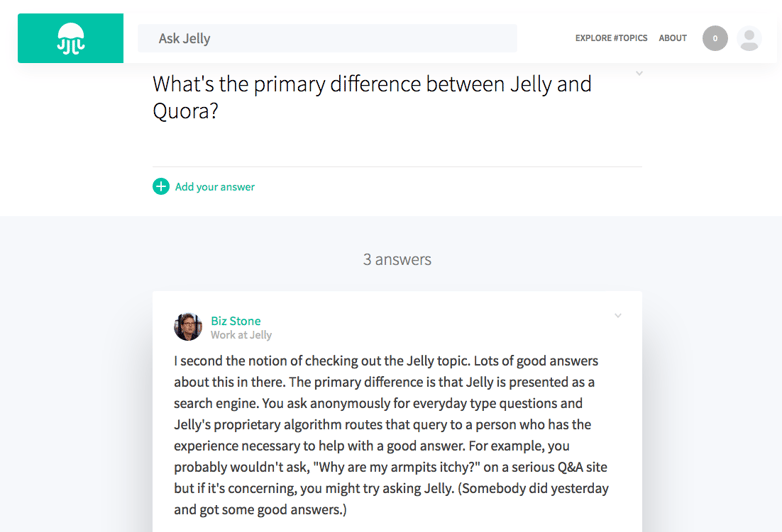 How your nonprofit could connect through AskJelly:
Since the product was recently launched, it's still gaining regular users and may take a little time to be hugely useful for nonprofits. However, we recommend trying it out now to help build up this community. It can serve as a resource for when you want the opinion or answer of a real person and will become more and more effective the more the nonprofit community uses it.
For example, I recently posed the question, "should a nonprofit DIY or hire an agency for their web design?" Here's what I got in return:
Not bad, but if a few more nonprofits got looped in, I'm sure they'd have their own stories to tell and the answers would be helpful for us all.
Share your knowledge or ask your question – go to AskJelly.com and try it out now.