It can be thrilling to click through on all the "2017 predictions" or "what to do this New Year" headlines, but hold off for a minute! Before you do so, did you take a look at what Google has offered your nonprofit? Google just took a step back to recap 3 ways they sought to help nonprofits in 2016, which could show you free tools of which your nonprofit has yet to take advantage.
First, a compliment from Google:
2016 was a year where you continued your work to change the world; to bring the world a little closer to finding common ground amongst peace, progress, and innovation.
Now, to the free tools your nonprofit may have missed –

In short, Google points out how almost one-third of all internet users are on YouTube. That's why Google's nonprofit-exclusive tool "donation cards" have tremendous potential.
Basically, donation cards allow you to donate directly from your YouTube video to your organization. Also, with zero processing fees (it's on Google).
Similarly awesome, other YouTube channels can use their video to raise money and directly donate to a nonprofit of their choice. And that nonprofit would receive 100% of the money donated.
Find out more in this video by Google:
Get started with donation cards:
It doesn't stop there. They also get your nonprofit started with an outreach toolkit. If you know of a YouTube channel that would be willing to support your nonprofit, point them to this help page for using and managing donation cards.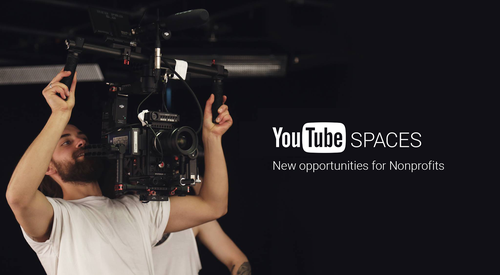 Google recognizes that though YouTube is an incredibly powerful tool for nonprofits, many nonprofits don't have the resources to create a high quality video. Now, YouTube for Nonprofits is providing state-of-the-art production spaces all around the world for FREE to qualitifying nonprofits, called YouTube Spaces. Beyond that, they created a community that will help nonprofits learn the necessary skills for using this equipment – YouTube Creator Academy.
Learn about the deets and qualifications here »
3. "Unlocking your nonprofit's data insights: Linking Ad Grants and Google Analytics"
Many nonprofits miss out on what might be the best free resource from Google: Google Ad Grants. Read more about getting your $10,000 from Google with our experts here before you learn what more this free money can do below.
If you are using your Google Ad Grant, you may have ran into a common predicament: How can you determine if your Ad Grant is causing increased conversions and actions vs. if it's something else?
Well for starters, you can watch a three minute video.
The link between Google Analytics & AdWords will help you:
"Track website performance data
Import Goals & Transactions into AdWords
View website engagement data in AdWords
Create remarketing lists
View AdWords data in Google Analytics account"
Learn more about how this works in Google's post »
4. "Four ways to keep your nonprofit safe & secure online"
In 2016, Google for Nonprofits partnered with Google's User Advocacy Group to share 4 tips for keeping your nonprofit safe and secure online. Rather than just providing you with a ton of free resources (which is pretty amazing in itself) they tell you how to use them in a secure manner.
There tips in a nutshell?
1. Secure your passwords
2. Take the security checkup
3. Understand privacy settings
4. Switch between personal and business accounts
---
Now continue on with your work to change the world! Just be sure to get your much-deserved free help from your Google friends.