As you well know, Google is so much more than a search engine. Especially noteworthy for nonprofits, Google can serve as a database for your content (contacts, documents, video, and more) as well as provide you with a Google Grant, Google AdWords and Google Analytics. Read on for more on how to set up your nonprofit's account. Nonprofits receive are eligible for exclusive offers and deals.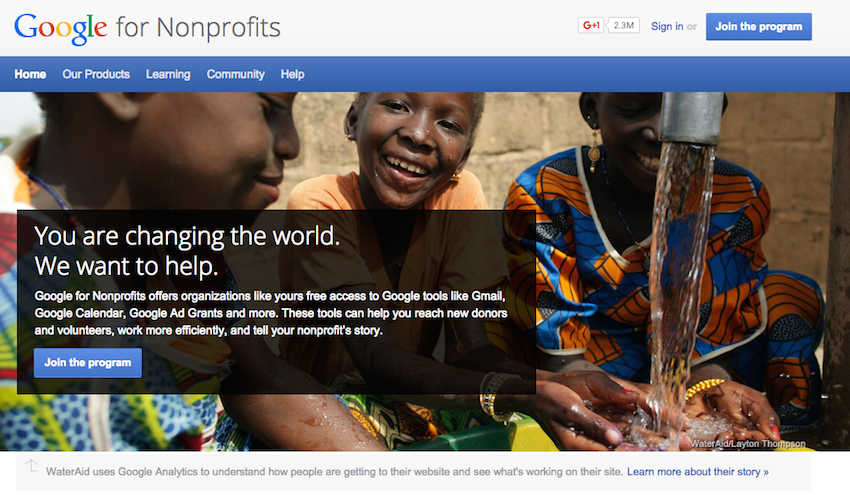 7 Step Guide to Getting Started:
1. Apply for Google for Nonprofits. To be eligible you must…
hold 501(c)(3) status
agree to their terms and conditions
be an organization other than a 1) governmental entity or organization 2) hospital or health care organization 3) school, childcare center, academic institution, or university. If you are a school check out, Google in Education.
2. Await approval from Google. Usually this takes 24-48 hrs.
3. Enroll in the apps you want, choosing from Docs, Email, Chat, Google +, Calendar, Spreadsheets, and Slides. See below for a closer look.
4. Receive 30 GB of storage in the cloud so you and your team can collaborate (from anywhere around the world) and take advantage of 24/7 support.
5. Learn more how-to's with tutorials by Google in their Learning Center.
6. Stay up-to-date by reading the latest news in the Google for Nonprofits Blog.
7. Read through other user's questions, participate in discussions or ask your own questions in the Nonprofit Forum.
If you'd like any help with setting up your accounts or choosing the right apps for you, call or email ArcStone and we'll walk you through it.